Adopted by Swedish parents as a child, woman finds her twin brother in Surat
Kiran Gustafsson met her brother, who was adopted by a local resident, for the first time in 32 years on Friday. A businessman and still a bachelor, he, however, wishes to remain anonymous.
Written by Kamaal Saiyed | Surat | Published: May 6, 2018 8:09:59 am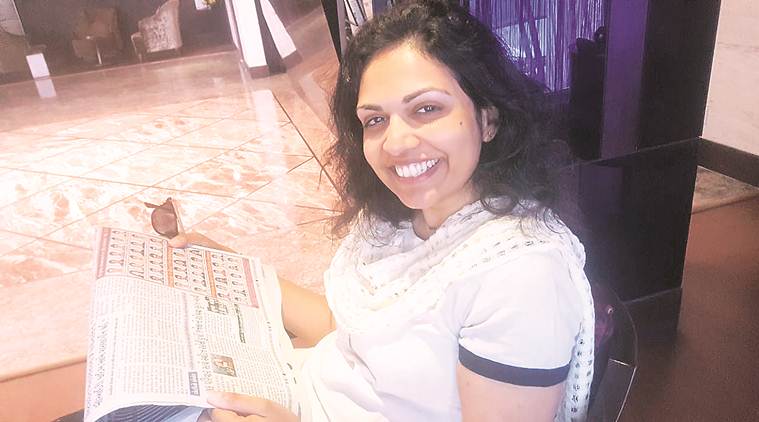 Kiran Gustafsson
For 33-year-old Kiran Gustafsson, who was born in Surat but adopted by a Swedish couple when she was just one- year-old, every visit to the city has primarily been about a quest to reconnect with her roots. Kiran, who arrived in Surat last Sunday to search for her biological parents, was pleasantly surprised to find that she had a twin brother too. She met her brother, who was adopted by a local resident, for the first time in 32 years on Friday. A businessman and still a bachelor, he, however, wishes to remain anonymous.
Kiran works at a career counselling firm in Malmo city, Sweden. She came to Surat last week to find her parents with the help of an activist, Anjali Pawar, who works with the Pune unit of a Netherlands-based organisation working against child trafficking. This is her third visit to Surat. She had come here earlier in 2000 and 2005, looking for her parents, in vain. "We worked on every possible lead to find her parents, contacting local authorities of child welfare committees," Pawar told The Sunday Express.
According to Pawar, Kiran's mother, Sindhu Goswami, was deserted by her husband for unknown reasons when she was pregnant. She delivered twins – a boy and a girl – on May 8, 1985 at New Civil hospital. Abandoned by her husband, Sindhu started working as a house maid in Ghoddod Road area in Surat, forced to look after their children alone. Through a friend, she handed both her newborns to Nari Gruh as her employer did not allow her to keep them at her home. She quit this job for another opportunity that promised better pay. However, she would still visit her children at the Nari Gruh and spend time with them.
After some time, the superintendent of Nari Gruh advised her to give her children up for adoption after there were regular inquiries. When he was three-months-old, Sindhu gave her son to a local Brahmin family for his "better future", says Pawar, who has been handling the case since Kiran contacted her to help find her biological parents.
A year later, a Swedish couple, Kjell Ake Gustafsson and Maria Gustafsson, adopted the girl on April 27, 1987, and after completing the court procedures, flew to Malmo with Kiran.
Talking to The Sunday Express, Kiran Gustafsson said, "My foster father is a businessman and a professional photographer while my mother is a housewife. After staying there all these years, I thought there is something lacking in my life. I could not do well in my work. Something was biting me inside my soul. My foster parents had told me that I have been adopted from Nari Gruh in Surat. One day, I thought I would like to just see my mother. I talked to my parents, but they also did not know about my mother and with their consent, I decided to work on finding my biological parents and came down to Surat in 2000, 2005 and now in 2018."
About finding her brother, on the fifth day of her stay in Surat, she said, "In the last 33 years of my life, this is the best birthday gift that I got from God. I came to Surat in search of my mother and found my brother just a couple of days before my birthday. I am speechless."
Kiran, who is here with her friend Hanna, flies back on Sunday. They first met Pawar in Pune and the three then came to Nari Gruh and tracked its then superintendent, Rekha Patel, who is now retired. "Through Rekha, we got the name and the address of the Naik family (Sindhu's second employer). However, on the first visit, they did not behave well with us. We took the help of local authorities and went again. They did not have any photograph of Kiran's mother, but they told us that she worked with them for four years but they did not know her current whereabouts. They helped us with the address of the Gujarati family where she worked earlier," said Pawar. The Sunday Express contacted Patel and the Naiks. Both refused to talk about the case.
From the records of the state government-appointed Child Welfare Committee (CWC), which runs the destitute homes like Nari Gruh, and the papers of adoption, which had the thumb impression of her mother, Kiran learnt her mother's name.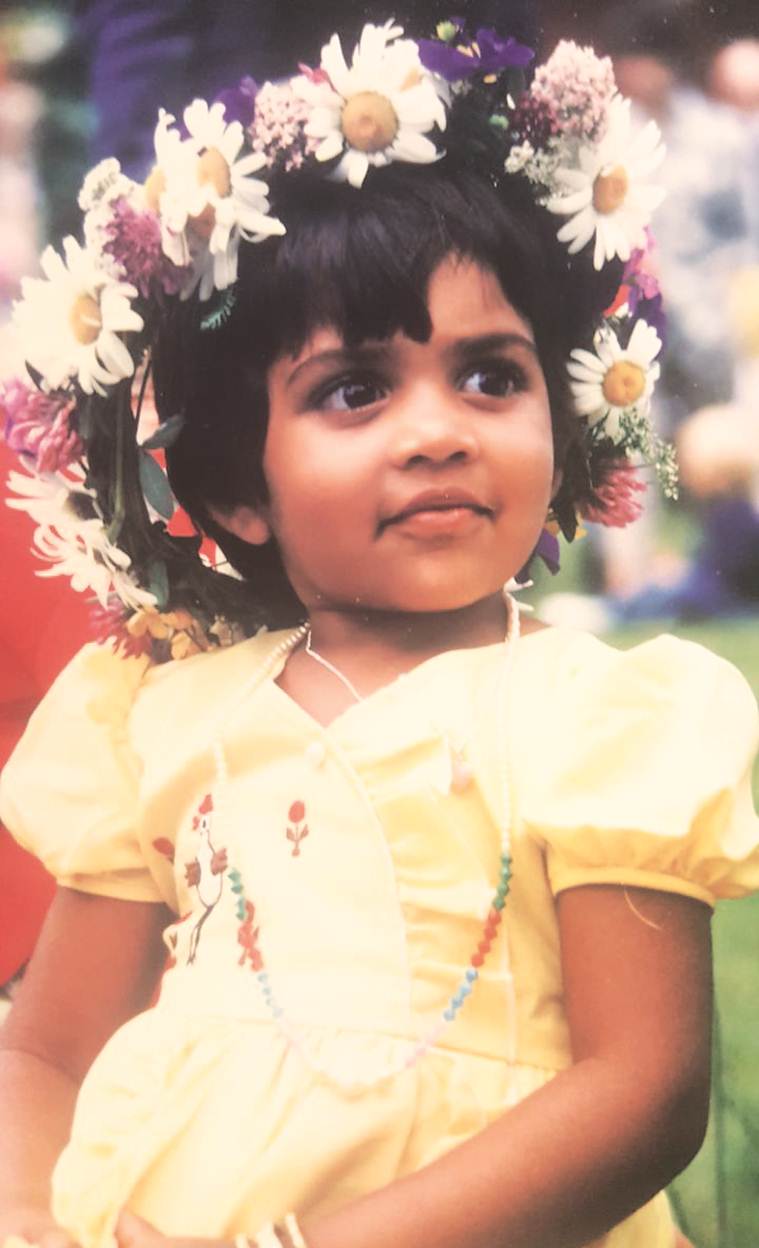 Kiran Gustafsson as a child
In the house of the local Gujarati family, Pawar, Kiran and Hanna found an old photograph of a birthday party of the daughter of the employer, which had Sindhu in it. "Kiran was speechless and tears rolled down as she saw the photo of the lady wearing a large bindi," says Pawar.
On checking records of deliveries at the New Civil Hospital, they found Sindhu had given birth to twins, the other being a boy. In Surat Municipal Corporation birth and death department records, they also learnt that two birth certificates had indeed been made. Kiran said, "I was in dilemma, and determined to find both."
Back at Nari Gruh on Thursday, they were told that the brother was adopted by a "Brahmin family". As they sat with the CWC member, Dr Jagdish Patel, in the hotel lobby where Kiran had put up, an acquaintance of Dr Patel turned up to say she knew Kiran's brother and that he lived in Parvat Patiya area of Surat.
On Friday evening, Kiran, Hanna, Pawar and Dr Patel reached the address shown by the acquaintance and the door was opened by Kiran's brother.
Describing the scene, Pawar said, "Kiran was standing next to me. I told him, 'This is Kiran, your sister'. They both froze. We took them inside the house as they looked at each other without speaking a word. Both cried, and then everyone was in tears. Later, her brother brought chocolates and ice-cream and offered us."
When The Sunday Express met her on Saturday, after she met her brother again at the hotel, she said, "It was like time had stopped. I was in the seventh heaven. It was like blood in my body was in search of same blood he had. I can say that it was union of blood. We shared our experiences and our life. He inquired about my foster parents. It was unforgettable. We sought blessings of his father too. On Saturday, he came to my hotel and I told him my visa expired on Sunday and I would come back and we both would look for our mother."
According to Pawar, Sindhu should be around 62 years old. "Kiran's story will end only when we find her mother. We also don't know about her biological father."