Yours Truly, Aai: A Swedish woman, adopted from India, on a search that led her to her birth mother
Written by Sunanda Mehta | Updated: June 11, 2017 10:40 am
"I hugged her and felt her bone structure. As we spoke, I spotted our similarities — both of us are very sure of what we want and don't want," Liselotte, says of her biological mother.
A new bloom: Vidya Liselotte was three months old when she left India with her Swedish adoptive parents. At 39, she met her mother for the first time. (Source: Sandeep Daundkar)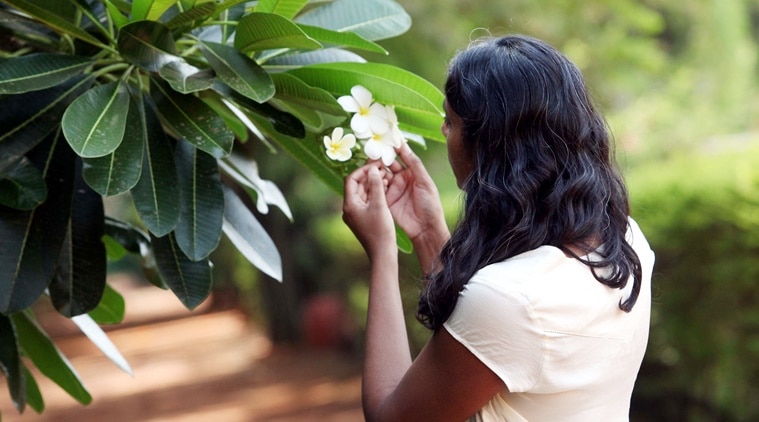 As a jazz singer, Vidya Liselotte had worked with voices all her life. She understood their breathiness, the pitches and vibrations that made up the tonal quality. Deep down, she had always wondered about her own. Where did it come from? Because it did not sound like any other women singers in Sweden, where she lived and worked as a freelance musician, teaching music to children. The answer came in May this year. Over a FaceTime call. As her phone connected with another, thousands of miles away in Nashik in India, she heard a woman say: "Vidya?" She heard the voice before she saw a face swim up on the screen. "That's my voice, that's me," she thought with a gasp.
For the first time in her life, she had heard a voice that sounded exactly like her. For the first time in her life, the 39-year-old had heard her mother's voice.
Liselotte was three months old when she left India with her Swedish adoptive parents. Growing up in Gavle, Sweden, with an adopted sibling and her parents' biological child (born later), she had a normal childhood, even if she always knew she was different. "I don't remember not knowing that I was adopted at any point of my life. It was apparent right from the beginning," says the tall, affable woman. When she was about 10, the questions began to surface.
"That was the time when my parents divorced. When you are from an already vulnerable background, and something makes you more vulnerable emotionally, it triggers new thoughts. That was perhaps when I started to consciously think about who my biological mother was. And I felt that I would meet her one day," says Liselotte. After the divorce, she stayed on with her mother, a receptionist at a magazine office, but would visit her father, a musician, on weekends. From him, she found her love for music and jazz.
When she was about 15, she was given a letter, which her biological mother had left for her, to be opened when she was that age. "Suddenly, I knew where I came from, it was my history. I read it a couple of times and then just knew every word by heart. I knew there is a life beyond where I am now," says Liselotte. The letter, she says, talked about her mother's warm feelings for her and indicated that she was a strong woman determined to make the best of her life. "This made a big impact on me as I could recognise myself in this thought," she adds.
As she finished her studies and moved out of home, depression started to gnaw at her. While her other friends chose higher studies, she opted for volunteer work with children in Nepal. "I knew Nepal was close to India and there was a trip to India at the end of it. I wasn't willing to admit that was the draw though," says Liselotte.
On that visit, she made her way to Pune and the Mahila Sevagram, the orphanage she had been taken from. It was, she says, as though she knew the place. "I had no visual memories, but the body can remember a lot," she says. In 2015, she returned, wanting answers to many questions. It was an emotionally draining experience talking to the women who ran the ashram, who answered her questions, but refused to give her the file that contained details about her mother.
"I came back to Jarlasa in Sweden, made more music, but something had gone missing from my life," says Liselotte. She moved back to Gothenberg where she had gone for higher studies earlier, simply because it had specialised counsellors for adopted children. "I went to one for four years. We talked of everything from relationships to work but finally the real thing came up. The letter, that was my real identity," she says.
A couple of more trips to India yielded little except bureaucratic hurdles. Five years ago, she had a child from her partner. It was a difficult pregnancy and it consumed her entirely for a while. But two years ago, the longing for meeting her mother came back even stronger. "That's when I met Anjali Pawar, a consultant with Against Child Trafficking (ACT), a Dutch organisation that helps adopted children search for their roots. Immediately, I knew that something is going to click now. I have very strong intuition — a trait from my biological mum, now I know," she says, with a smile.
In the last few months, things moved in quick succession — first the surname of her mother was unearthed and conveyed to her, then Pawar traced an email containing pictures of her mother. Then came the FaceTime call and, finally, the meeting in Nashik last month. "The first thing I wanted to tell her was that I understand. I understand her circumstances and why she had to give me up. Then I wanted to let her know that I was fine. Finally, I wanted to thank her for giving me the gift of life, despite her adverse circumstances. I managed to do all of that — and more," says Liselotte of her first meeting with her mother in May this year.
"I hugged her and felt her bone structure. As we spoke, I spotted our similarities — both of us are very sure of what we want and don't want, and have very well-tuned antennas. These are not traits I share with my adoptive parents, though they are wonderful people," says Liselotte.
Did they understand her need for this search? "They were very supportive and very happy I found my biological mother. As for understanding the need, I don't know how many adoptive parents are able to do that. For most, it's very difficult to connect to the adopted child's deepest need. The child is left alone to solve this existential question by her/himself," says Liselotte.
She watched and could relate acutely to the Oscar-nominated film Lion (2016), about an Indian adopted child Sheru's search for his biological family. The story is about hundreds of such children who make this attempt. ACT itself has had 40 successes in the last eight years of its existence. "See, the man in the movie didn't tell his parents about his search until the entire family broke down. He had been playing a 'role' too long and not been listened to and asked about what he needed deep inside. I could relate to the loneliness — how adoptive parents have little understanding of what it means to have another history in the background, other than the one they give," says Liselotte.
Finding her mother has healed her and given her a deep sense of fulfillment. "I have been given three deeply desired gifts: my son, my music and and now this — meeting my biological mother," she says.
She is back in Sweden now. She is regularly in touch with her biological mother and all set to learn Hindi.
"It is as if the most important piece of the jigsaw puzzle of my life has been found," says the singer, who has also noticed since that her music has changed. "Her songs always had a question in them, now she sings as though she has the answers," says Pawar.